Published on September 13, 2010
–
Updated on April 27, 2015
The university offers the student a considerable range of digital communications and learning tools.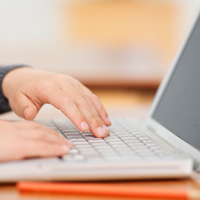 Student webmail
The university provides an email address to each student, and messages may be consulted via webmail. This is a valuable tool for the university administration which is a straightforward means for conveying information to more than 32,000 students, primarily by monthly newsletter.


Online classes
You can access online the Eprel platform classes provided by your teachers as well as self teaching modules in various administrative subjects.
Online library
There are a number of useful services you may access: library catalogue and reading services, online research sources, and teaching materials :

Consulting the catalogue and other reading services. : access to complete library catalogue as well as the catalogue of recently arrived resources - making suggestions for new purchases.



checking on your current library loans to ensure you have no outstanding materials, extending your loan times online, 



requesting a notification for an unavailable book when it is returned

requesting notification of availability of research materials, establishing online bibliographies

accessing research materials online and remotely : reading and downloading ditgital books

, accessing via the Mercure portal numerous online publications. Mercure allows for the simultaneous research of several publications at once 



accessing educational materials: the bibliographies provided by your teachers
 - exam subjects online.
Self teaching in administrative subjects
UPEC has made available to students, teachers and other staff more than 30 interactive 'self teaching' modules on a range of administrative and management subjects.
"Onlineformapro" is a new resource made available to UPEC. These E-learning courses cover the following subjects: computers, management, accounting, finances...